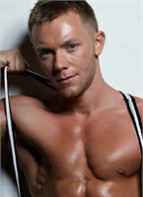 Dawson
About Dawson
Dawson Biography
When it comes to the list of most notorious power bottoms to ever grace the screen, Dawson is undoubtedly at the top of the list. Renowned for his insatiable appetite for rock-hard cocks and warm, creamy jizz, Dawson's debut feature, Dawson's 20 Load Weekend , made him an instant star in the bareback genre.
His breakthrough into the wild world of porn began when he reached out to the ever-controversial Treasure Island Media with interest in shooting with them. It did not take long for company founder Max Sohl to follow-up with Dawson and production forDawson's 20 began soon after. The film went on to garner a massive fanbase for its star as well as a plethora of Spoogie Awards, including "Video of the Year," "Best Newcomer," and "Hottest Bottom."
Despite establishing himself as one of the wildest performers of our time, Dawson is much more than the sex god that many know him as. The youngest of eight siblings, Dawson considers himself very family-oriented and a romantic in his personal relationships. Outside of his porn career, he works in sales for a biotech company.
When he isn't busy holding down his very demanding schedule, the self-professed "Cum Pig" enjoys the outdoors, playing tennis, and hanging out with friends in his downtime.