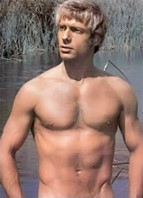 Jack Wrangler
About Jack Wrangler
Jack Wrangler Biography
Jack Wrangler was born on June 11, 1946, Los Angeles, California, USA; was the professional name of John Robert Stillman in his roles as both former gay and straight pornography actor and theatrical producer and director. His father was Hollywood film and television producer Robert Stillman ("Champion," "Boots and Saddles," "Second Chorus," "Home of the Brave") his mother was a former dancer in Busby Berkeley musicals. His paternal grandfather made a fortune in the garment industry.
At the age of nine, Stillman starred with Eleanor Powell in the television series "The Faith of Our Children" (1953 - 1955), a religious family show that won five Emmy Awards. Following college, he had some early work on the stage and as a model and dancer, as well as bit parts on television series like "The Mod Squad" and "Medical Center." Finally, he appeared in a male strip show in the mid-1970s under the name "Jack Wrangler". A career in gay pornographic films soon followed, and he rapidly became one of the first performers in gay porn to achieve star status and a cult following.
During his career as a porn star, Wrangler appeared in over 85 films. He also continued performing in the theater, including the play "T-Shirts" by Robert Patrick. His résumé lists a performance in "Forever After," by Doric Wilson, although Wilson points out he did not actually appear in this play. Wrangler also once claimed that Wilson's play "A Perfect Relationship" was written with him in mind, to which Wilson has replied, "I never even jacked off with him in mind." In the early 1980s, Wrangler began appearing in straight porn films, most notably "The Devil in Miss Jones II." He told "The Advocate" that his first sexual encounter with a woman was on screen, in the movie "China Sisters."
His autobiography, "The Jack Wrangler Story, or What's a Nice Boy Like You Doing?" was released in 1984. Wrangler retired from the adult entertainment industry to pursue a career in musical theater in the early 90's.