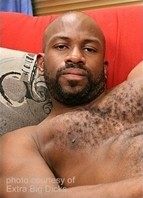 Ty Lattimore
About Ty Lattimore
Born: June 23
Zodiac Sign: Cancer
I am originally from Oakland, CA. Born on June 23, 1976.I am from a small family. I am the oldest child.I attended college in Philadelphia. I first started out doing some modeling for different photographers in the Bay Area. The most prominent being Hopeton Stewart, who is well known for his black and white photography.
Shortly after being in a magazine called SBC in LA, a few video offers came to me. Initially I was not interested. I continued to model. My next nationwide magazine was a layout in Nuances magazine based in Philly. About a year later I did my first video for a company called Brush Creek Media. Things took off from there. I have been featured in Black Inches several times, had a monthly column in the magazine for over 3 years and starred in almost 45 videos throughout the years.
The reason I started my own amateur company was that there are many types of "everyday" men not being featured in videos. I have been able to find a very diverse group of men. I am NOT only shooting Black guys or only guys from the South. When I say "diverse,"I am referring to body types, ethnicity, age, and etc. I just feel there is room for all types of men invideo. Besides that I just got exhausted flying to NYC and L.A all the time to film for other companies.
There are a lot of hot men in the South not being featured in productions. The men here are completely different than the LA idea of sexy. The flavor and texture is different in the South.
I also had been receiving some many emails from guys for years asking me about getting in the industry. I still find that amazing because I have not done nearly as many videos as alot of my peers. I think the advantage of not having ever lived in LA or NYC is that I was never in danger of being over exposed. I have really been able to pick and choose projects since I started in 1997. It hard to believe I have been doing this on and of since I was 20 years old. My decision to produce and direct was not easy to come to but I needed to challenge myself in new ways that being infront of the camera was no longer providing. I did not realize how much I had learned from being on all the sets and working with some great people over the years. I also think that being a model myself, first and foremost, is why so many guys trust me to come work for me. The have also seen my articles and posting about the industry in my yahoo group, websites, and former Black Inches column.
Our motto is simple "Real Men. Real Diversity. Southern Flava."